It's been a long two years and a lot of online technology drama, but we are finally ready to return to in-person music lessons! Seems simple, right? You'd be surprised how tricky it can be, no matter how much experience you have. It seemed to take you forever to adjust your lesson plans, teaching methods and getting your head around break-out rooms, and now you've got to do it all again… only reversed. But don't worry, we're here with some tips on how to do just that, ensuring your transition back to the classroom is as smooth as possible!
First things first – safety. It's of the utmost importance to both your students and yourself to ensure everyone in the room feels comfortable and safe in your lessons. It might feel a little daunting for the students initially, so whether their (or your) concerns are physical health or mental health based, be prepared for questions and have answers and solutions ready. It might be a good idea to choose a larger room than normal to hold your lessons in so that you and your students can socially distance, if they'd like. Or maybe they are feeling anxious about returning to in-person lessons again – in this case, ensure you are available and approachable for students so you can find a solution between you.
Now the Covid stuff is out of the way, what about the actual teaching-based tips? Well, you took the time to figure out the tech skills needed for online lessons – don't throw them away just yet. Using technology in teaching is a valuable tool and will no-doubt come in handy during your in-person music lessons. Be creative: how can you use technology to add more interaction and fun into the lesson? This can help to keep students' attention focused and help them to take in the information better. A great example of this would be investing in an interactive whiteboard – not only can you then easily display examples of the work the students are learning, you can save them directly to a document on the cloud (such as Google Docs) and share with them after the lesson. This can reduce the time you might have spent writing out revision guides or worksheets. You could even go a step further and pre-record videos of yourself to demonstrate various techniques and hand positions. And what about apps? Lots of music-based apps can make learning to read music fun and interactive (e.g. Music Tutor (Sight Reading)) – if it feels like a game, especially with a competitive element, this will peak students' interest and get them to work to beat their own score – children and adults alike. And apps aren't always something that learners use alone, quiz apps like Kahoot can be a great resource at the end of the lesson (especially if it's a group lesson!) to summarise what's been learnt throughout the lesson while maintaining that level of interaction and competitiveness, and trust me – it's fun and effective!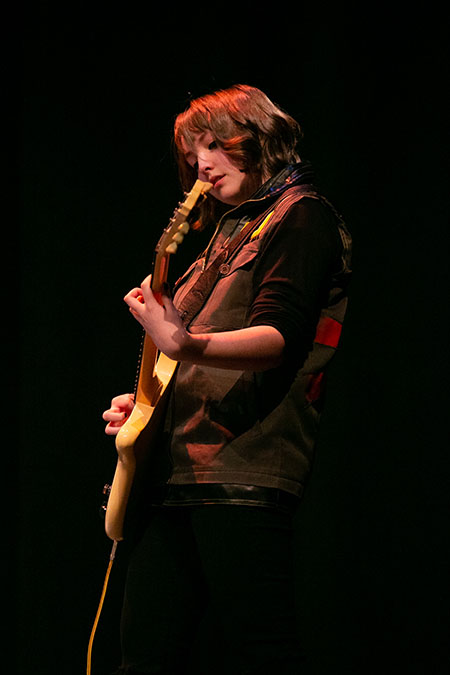 Furthermore, it might be helpful to take full advantage now venues and other activities are open again. Take the student or class to a performance at a theatre to remind them how thrilling live music is; ask the students which music they like best and plan around that. Integrate it into the whole week or month's lessons – where did this music originate? What were the influences? Which instruments are being used? Set a task for them to learn their favorite pieces from the performance and – if it's a group lesson – play to each other; maybe even put on a mini performance or recital specifically for it. Take advantage of those things we have been deprived of and take the opportunity to remind the students of why they wanted to learn music in the first place. Reignite the passion.
What about the range of instruments available to learn? During online lessons, students are limited to the instrument(s) they own, but in a classroom, they can potentially have access to other instruments, or even just other types of the instrument they are learning. If you're teaching guitar, perhaps bring along both an acoustic and an electric one for the lesson and let the student(s) play around a bit. It's often through play that students find exactly what they're looking for, and this might open up options that the students hadn't even considered. If not different types of the instruments, maybe different qualities; show the students how the quality of the instrument affects the sound. Keep it kinesthetic!
And perhaps most importantly, don't be afraid to ask for feedback! At the end of each lesson ask what the students enjoyed, and what they think could be improved. Each class or student may prefer different teaching styles, but that will only help improve your success as a teacher. Feedback can be given via a simple 'hands up' feature, or it could even be an online survey you email out after everyone has gone home. Get to know your students and their preferences because it won't just make life easier for you, it will do wonders for them, too.
Ultimately, getting back into the classroom is about keeping the students engaged, reminding them how much better learning music face-to-face is compared to online lessons, and most importantly… about teaching music! At first, the students might struggle to adapt as was the case when everything first went online, but be a safe, open place with love of music at the heart of each lesson and interaction, and let the benefits speak for themselves. So much of music is about working together – be it in a band or an orchestra – so let that lead you and bring the class together: make it fun, make it social, make it musical. Find what your students love and roll with it; you'll soon find that initial slump or period of lateness will soon diminish. And remember, the success rates of students who learn music in the traditional classroom setting compared to remotely are far higher so you're already starting on the right foot. Before you know it, teaching face-to-face lessons will be as normal as it ever was, so walk into that classroom with your music book in hand, instrument ready to play and knowledge ready to impart!