Has your child expressed an interest in playing the guitar or exploring music? We've developed the perfect introductory course for young aspiring musicians! During our comprehensive 6-week course, students will learn how to pick, strum, warm-up, and play their favorite songs, all in a fun, supportive atmosphere. Taught by our friendly, university-graduate instructors, our program has helped hundreds of students learn, gain confidence, and advance their performance skills.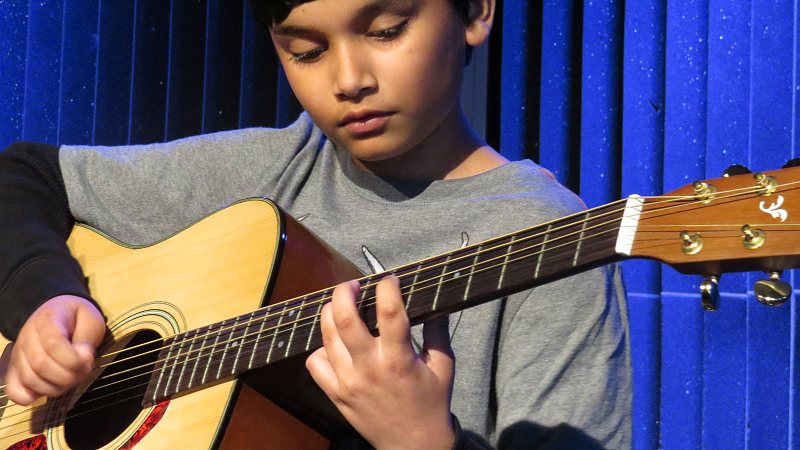 Program Details
Students will learn the basics of guitar, including chords, exercises, and single note reading
Classes run 60 minutes
For kids ages 9 to 14 years old
Acoustic & electric guitars may be used for class. Guitars not provided, but available for rent – contact us for details
Mondays, October 5th to November 9th, from 5 – 6 PM on Zoom
Tuition is $150 per student – register today!
Upcoming 6-Week Online Zoom Course
Mondays, October 5th to November 9th.
Instructor: Danielle Arena, a teacher at North Main Music.
Class: 5:00 – 6:00 pm on Zoom
The deadline to register is Thursday, October 1st.
*This is not a school-sponsored activity*
Tuition is non refundable after Week 1 class!
To register, call 603.505.4282 or fill out the form to reserve your spot online today!
To ensure quality instruction for each student, space is limited, so sign up now!
After signing-up, you will be redirected to a new page where you will pay for and complete your registration.
Group Guitar Lessons Sign-up
Can I bring my own guitar?
Each student is required to have their own guitar. Acoustic or electric guitar is fine for the class. We do have 2 electric guitars for rent. They are $35 for the course – first come first serve.
Is there a maximum class size?
To ensure quality instruction for each student, maximum registration for each class is 8, and classes fill-up quickly!
Is there an age minimum or maximum?
Classes are for students who are beginner guitarists ages 8-12.
I have played some guitar before. Do you recommend this class?
Keep in mind this class is structured for complete beginners.
I've been taking guitar lessons for about six weeks and I really like it…it's awesome! We get to learn all kinds of chords, and play the songs we like.
I was amazed at how much Ryan learned in just the first few lessons. It's great to see how much his love for music has grown in such a short amount of time! He loves to perform and show off his new skills!
Thank you so much for teaching Peter the guitar. He had so much fun learning different songs and chords. He wants to keep taking lessons!
I really like it, it's fun! The instructors are nice and explain things well. They don't just whizz through things, they go through everything slowly. I'm learning a lot!
We weren't sure Ethan would stick with the guitar, but after your course, he doesn't want to put it down! He comes home every week proudly showing off the new songs and concepts from class. Thank you!!
Copyright © 2022, North Main Music.
28 Charron Avenue, Suite #1
Nashua, NH 03063 | Terms